3 days into my surgery, and I look like someone who has a big fat cake pop stuffed in my left cheek. Had it not been for the excruciating pain from the stitches in my gums, I would have thought it was pretty funny. (Not to forget the fact that my husband is actually calling me Paan-wale PandeyJi.)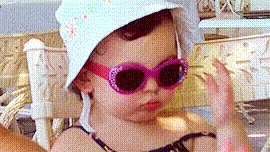 (I think my face is looking as big and chubby as this baby's, probably just not as cute.)
But after three days off from work, I had to find the strength to get up, dress up and actually show up today. And while the pain is still persisting, I'm really glad that I actually managed to do that.
Often, we get really bogged down by the things life throws at us, but we tend to forget that life has to move on. It can't get stuck. It can't get stagnant. Yes, the breaks are allowed and slowing down is okay, but you can't sit forever hoping that the indefinite halt will somehow change something.
Nothing changes until you do.
So for everyone struggling out there, just find that little bit of courage, and get out of bed. And just show up. One day at a time. It gets better, it always does.
Lots of love,
P